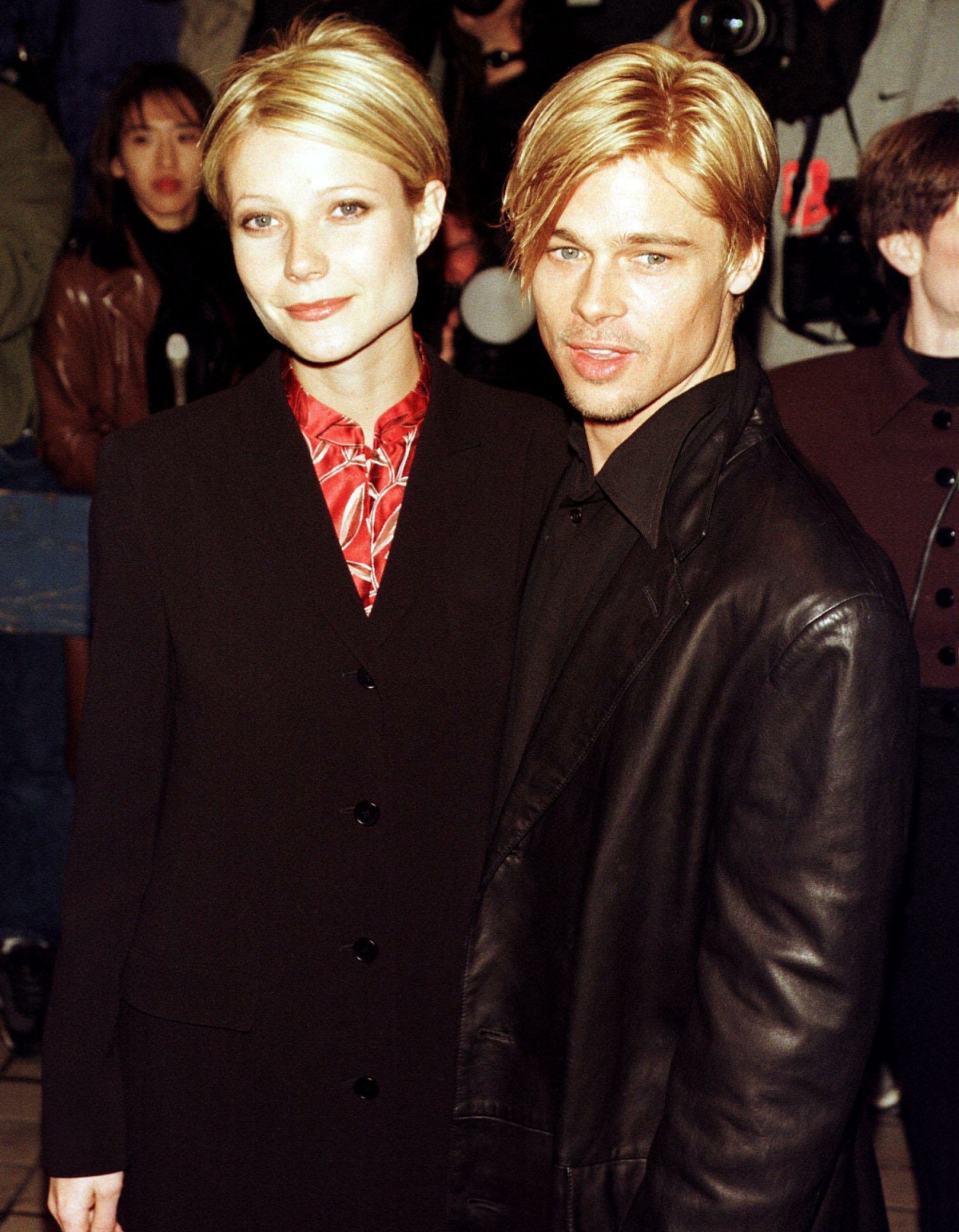 When the New York Times published their bombshell report on Tuesday, it was clear that Gwyneth Paltrow not only spoke to them directly, but she directed some other people to speak on her behalf and confirm her story. One of those people was Brad Pitt, her boyfriend at the time of Harvey Weinstein's harassment. Brad confirmed Paltrow's story via his rep to the New York Times, and then People Magazine released a story about it a few hours later, with new details and what seems like direct access to Pitt and his people. Apparently, Brad really did get in Harvey Weinstein's face about it.
Brad Pitt threatened to beat up Harvey Weinstein after his then-girlfriend Gwyneth Paltrow told him that the movie mogul had sexually harassed her. Pitt, who was dating Paltrow at the time, confronted Weinstein about the incident at a Hollywood party around 1995, a source tells PEOPLE.

"Brad threatened Harvey," says the source. "He got right in his face, poked him in the chest and said, 'You will not ever do this to Gwyneth ever again.' "

The source adds that Pitt "made it clear there would be consequences" if Weinstein tried anything again, and "described it as giving Harvey a 'Missouri whooping.'" (Pitt grew up in Springfield, Missouri.)

"He made it absolutely clear this was not going to happen again and it didn't," explains the source. As for Weinstein's response, the source says, "At first Harvey tried to explain, then he stopped and listened and got the message."

The source notes that Pitt was not yet a major star at the time, and was "taking a big risk" by confronting Weinstein: "He was a young guy in Hollywood taking a chance."

Still, the source says, "He's one of the only men in Hollywood who stood up and said something. That's a fact."

Pitt also worked with Weinstein again, starring in Inglourious Basterds in 2009, which The Weinstein Company released and Harvey executive produced. Says the source: "He did Inglourious Basterds because of his relationship with Quentin Tarantino, and had nothing to do with Harvey."
Part me was a little bit eye-rolly about the "Captain Save-A-Ho" narrative being pushed by Team Pitt. But really, think about how powerful Harvey Weinstein was back then. Brad really was taking a risk by getting in his face. So give him a slow clap, he does deserve it.
Here's the thing though, and I brought this up on the Matt Damon post too: what about the women who aren't thought of as another man's possessions? Matt Damon sees Weinstein's sexual predations through the lens of fatherhood, the "what if that happened to MY women, MY daughters." Brad saw Weinstein's predations through a similar lens – "You can't treat MY girlfriend that way, she's MINE, not yours." While I'll give Brad some points for standing up to Harvey, there's a larger issue at play here: men who see women as objects and possessions instead of full citizens and human beings who have every right to have a safe work environment, a safe home, and safe and consenting relationships with every person in their lives.
Photos courtesy of WENN, .
All Credit Goes To This Website:
Source link
Comments
comments