Jennifer Aniston covers the October issue of Harper's Bazaar. The interview was conducted by Amy Sedaris, who is one of Justin Theroux's oldest friends. It could have been a silly, soft-focus interview, but Amy actually got Aniston to talk about some stuff about Justin and their marriage, stuff we normally don't hear about from her. But yeah, the rest of it is soft-focus fluff. Jennifer is currently promoting… her latest perfume, I think? The new perfume is called Luxe. You can read the full Bazaar piece here. Some highlights:
The nostalgia of movie theater date-nights: "The kind of wonderful nostalgia of going to a movie on a date on a Friday night unfortunately has gone, it seems. Everyone is so addicted to their damn phone. Kids are watching movies on their phones or a computer. It's sad to see the filmmaker's and everyone's hard work diminished down to a computer screen. But it is fun to sit in bed and binge-watch. You can just dive through them like an eating disorder."

On renovating houses: "I love it. I'm getting antsy to do another project. It's a hell of an expensive hobby, though. If I wasn't acting, I would do that full-time: the process of seeing it, having the vision, then collecting the team of people who will execute that vision. I enjoy walking into a house that's been taken down to the studs. You should have seen Justin. We walked in one day after they'd been doing the demo, and he was like, "Holy sh-t. What are we doing?" And I was like, "We're redoing the house, babe. We gotta take the wall down to put up a nicer one."

Whether she's ever had to de-ghost a house: "It's funny you ask. One of the first houses I rented was in Laurel Canyon, and things would literally fall off the shelves, the televisions and stereo system would all of a sudden blast, and the coffeemaker would start making coffee. My roommate at the time, who talked to dead people, if that doesn't sound too crazy, did a little ceremony, and that freaked me out. I was new to Los Angeles and the spirit, past lives, New Age thing. And now every house I go to, I have a healer or a medium come through. This makes me sound like an absolute insane human being."

Her style mixing with Justin's style: "They say building houses can make or break a couple. I was so used to doing it on my own, and there were moments when I was like, "Don't say no so fast." I have this dialogue with my interior designer where I'll go: "No. Hate it. Move. Next." That can sound a little abrupt, so I had to retool my attitude a bit. It wasn't very hard because he loved whatever I brought to him.

On smells and nails: "I love the smell of acrylic nails. [Laughs] We were talking about the nails of the character I am playing in a movie called Dumplin', and she's got to have these horrible French tipped nails. So we were trying out different ones, and I loved the smell… I usually just buff my nails. I don't have the patience to let my nails dry. When Justin proposed he put that freaking ring on my finger, and I was like, "Holy crap, now I'm gonna have to get manicures."

The theory about tanning methods: "Yes, baby oil and Coca-Cola, or some weird combination. Being Greek, we love our tanning, but I've been on hiatus. And I miss it. It brought me a lot of happiness being able to lay out there and get that vitamin D, but I've become very comfortable with a good spray tan… Sunscreen? What's that? This is something new. I just don't like the feel of it.

Her vitamins & her wellness center dream: "Vitamins. Vitamins. Vitamins. I take a lot of vitamins, I'm not going to lie. It changes all the time because someone will say, "Oh, my God, you don't take activated charcoal?" Then you go down a Googling hole to understand the benefits of that, or turmeric or dandelion for water retention. Now I'm doing apple cider vinegar in the morning….:I can't keep up. My dream is to open a wellness center. I have a fantasy where you have this beautiful space with facialists, rotating workouts, meditation classes, and a café with recipes that are healthier versions of delicious foods so you're not deprived. I'm working on it in my brain. Not to sound all woo-woo, but if you go out into the world with inner peace, you're more joyful. There's a life's-too-short policy that I now have with my work; no negative Nancies. So I'm looking forward to my facial.
It's never been a secret that Jennifer is more a hippie-dippy California girl like that, with mediums coming in to de-ghost her homes and dreams of opening up a wellness center. I think she's leaned into that more as she's gotten older too – like, this is who she is. She's the woman who can talk about getting facials and her hair for hours. I think it's funny that beyond the health-and-wellness aspect to her, she's really just a girl who loves to tan and decorate. It's fine. She accepts who she is and so do I.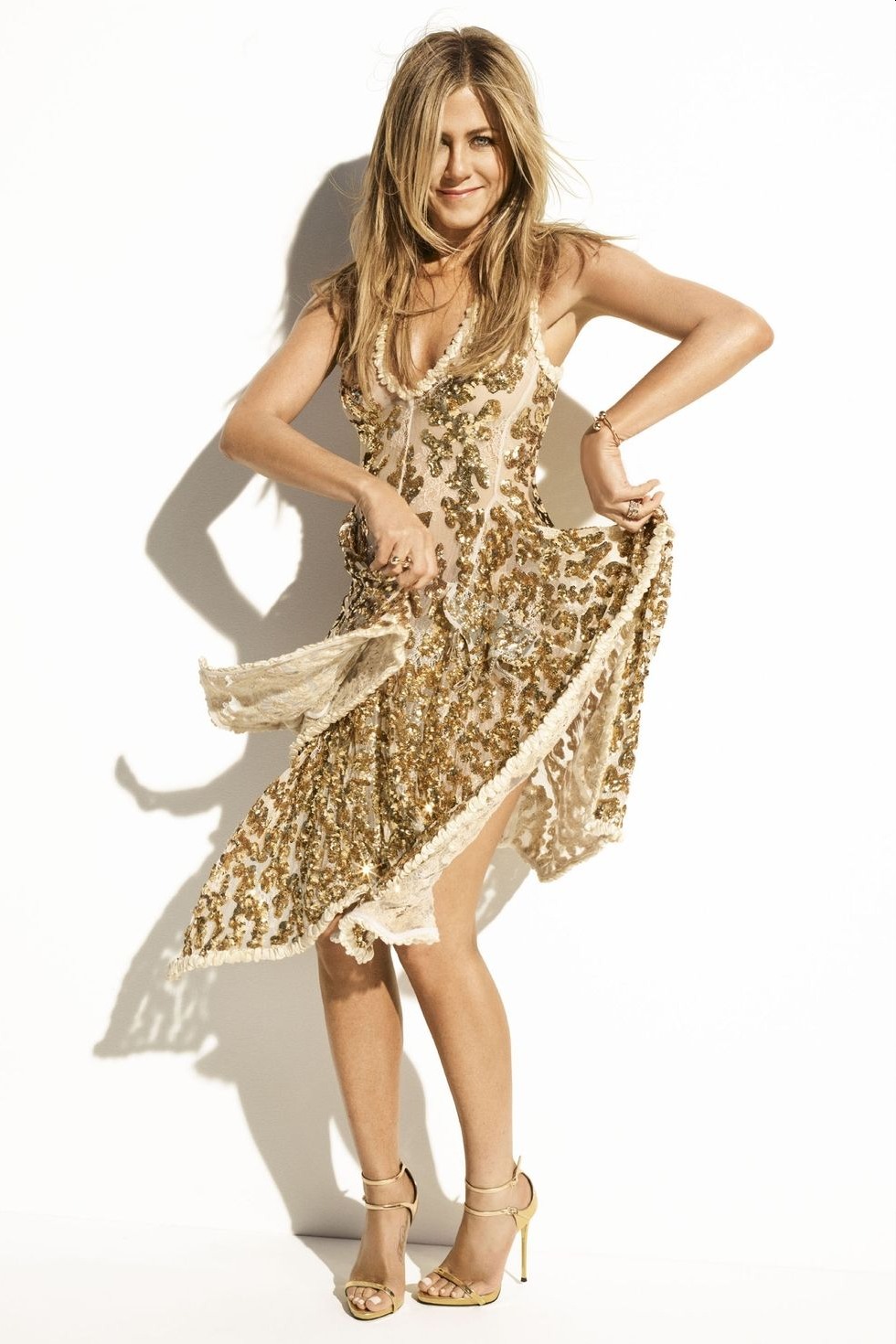 Photos courtesy of Mariano Vivanco for Harper's Bazaar.
All Credit Goes To This Website:
Source link
Comments
comments