I've said this before, and I still feel this way: I miss the Mooch. Anthony Scaramucci was good for business. The Mooch was an unhinged nutjob, but let's be real: he was not a true believer. He was not Steve Bannon or Jeff Sessions. The Mooch was just a terrible hack, a narcissist and a showman. The Mooch left the White House in a blaze of glory after ten days on the job as White House Communications Director. In his brief tenure, he gave a hilariously obscene interview on the record, he bitched about Sarah Huckabee Sanders needing more makeup, he lied profusely about Donald Trump being the most amazing person ever and more. While all of that was happening, the Mooch's personal life fell apart – his wife, Deidre Ball, gave birth to their child and the Mooch wasn't there to see the birth. Ball left him and filed for divorce in the midst of his White House tenure. And now a new chapter for the Mooch Saga: Midnight Mooch and the Case of Random Sperminator. The Mooch wants a paternity test on the baby Deidre had while the Mooch was too busy.
Anthony Scaramucci's divorce is turning nasty, because he believes the newborn son whose birth he missed during his historically-brief tenure in the White House is not his – and he is demanding a paternity test. A source tells Page Six The Mooch believes estranged wife Deidre Ball could have been impregnated by someone else while he was away building his now famously-failed political career for President Donald Trump.

Deidre, we are told, is horrified by the claim and insists the child is Scaramucci's. And she has upped the stakes by hiring top Manhattan divorce attorneys Bernard Clair and Dan Rottenstreich from the powerful firm Cohen Clair Lans Griefer Thorpe & Rottenstreich LLP in order to make mincemeat of The Mooch in court. A source exclusively told us, "Things are heating up in the divorce. He doesn't believe that child is his. He is actually contesting the paternity of the newborn, which is the same as dropping a hand grenade into any divorce action and possible amicable resolution, and Deidre strongly rejects his claim. You don't make that sort of claim unless you are nuts. He will be easily proven wrong."

The source added that the paternity test had not been done yet, as it would be ordered by the judge presiding over the case in an upcoming hearing. Page Six exclusively revealed in July that fed-up Deidre, 38, had filed for divorce when she was nine months pregnant on July 6 at the Nassau County Supreme Court near their Manhasset home. She gave birth to their second son, James, in late July, two weeks early, and he was admitted for a short time to the neo-natal unit at Lenox Hill Hospital. Then-White House communications director Scaramucci didn't come home until six days after the child's birth and sent a text to his wife in the hospital saying, "Congratulations, I'll pray for our child."
Oh, Mooch. This is so trashy, so tacky, so… perfect for Anthony Scaramucci. I mean, I even sort of understand it: obviously, the Mooch doesn't give a sh-t. He's burned so many bridges in one month's time, what's one more? Of course he wants a paternity test, and when it comes back and he IS the father – Maury-style! – he'll make a big deal about that too and this will go on forever because why not? Also: The Mooch is Hector Projector. He was the one having an affair behind his pregnant wife's back. He's dating some Fox News fembot now.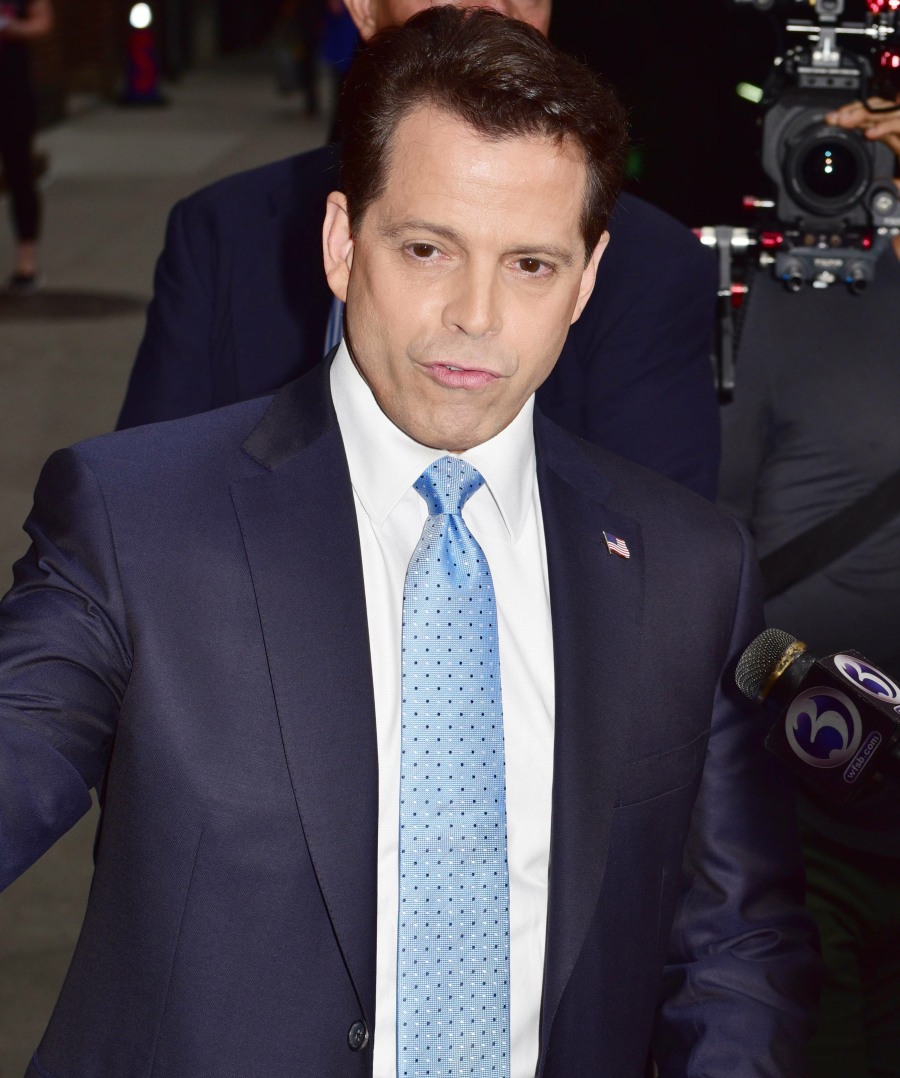 Photos courtesy of WENN.
All Credit Goes To This Website:
Source link
Comments
comments